As I've blogged about before, there should be some sort of overview in the proxy about topics that are addressed in other corporate documents more thoroughly. These overviews typically cover things covered in greater detail in the Form 10-K and ESG report. Often this comes in the form of one or more "highlights" sections, such as a "Company Overview" or a "Performance Highlights" section.
A "Performance Highlights" overview helps provide context about the topics that tangentially might impact the items upon which shareholders will be voting upon. These highlights should provide insight into the company's progress against its strategic priorities and its most recent financial results of the company, which investors definitely care about.
Transparency Criteria #16 for the proxy states:
The company overview section includes business and financial highlights section using graphics or other visual elements.
The "Performance Highlights" typically consists of graphics that highlight the company's business and financial data that would be of most interest to the reader. There often is both qualitative and quantitative information in this section. For example, the qualitative information might be that the company opened an important distribution center that it had earlier indicated it would build.
This section enables a reader to get the sense – at a glance – whether the company is on (or off) track from its previously-stated strategic goals. It's a quick-hitting section. A one-minute review for the reader.
For example, see the 2023 CVS proxy (page 2):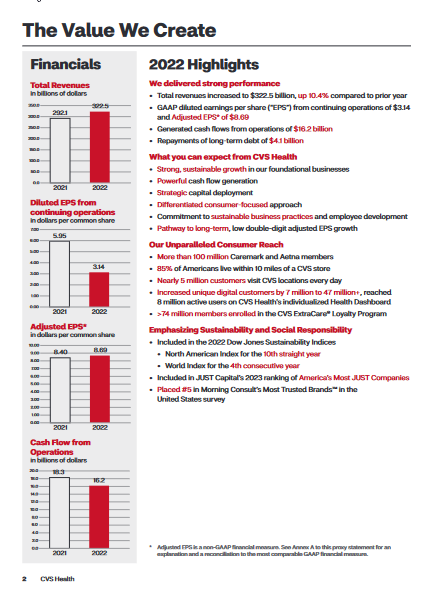 Another example is the 2023 Marathon Petroleum proxy (page 2):