Transparency Criteria #20 for the proxy states:
Each director biography includes a photo and at least five separately presented attributes (such as tenure, age, independence, other public directorships, and committee assignments).
Fortunately, director bios have almost uniformly come a long way over the past decade with nearly all companies moving away from paragraphs that vaguely muddled experience and skills. This is a Precision Pillar criterion to give the readers what they want (here is a list of all the transparency criteria as well as the "Five Pillars of Transparency").
First and foremost, investors want to see pictures of each individual board member. Today, this is indeed done by most companies. Most investors don't use these pictures as a way of reaching a conclusion about the race and ethnicity of a particular director; rather, they rely on disclosure or more specific graphics to inform them about that (I'll be blogging about board diversity disclosure soon enough).
The primary purpose of director pictures is to help humanize the board. They put a face to a name and to a textual bio. A few companies even throw in a group picture of the board to help show collegiality and give a sense of the board as a group – for example, see the 2023 Coca-Cola Company proxy (on page 12):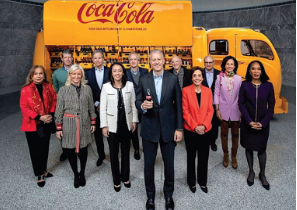 Other common items in director bios are the ones required by Items 401(a) and (b) of Regulation S-K, which requires disclosure of names and ages, positions and offices, terms of office and any periods served, and a brief description of any arrangements or understandings between the directors, director nominees or executive officers and any other persons pursuant to which they were or are to be selected as directors, director nominees or officers.
Taking it a step further, some companies address other matters for which they hear that readers want to know. For example, whether a director is independent and the nature of the committee assignments for each director.
The key is to keep this bio disclosure simple and easy to read. Bullets and headers help focus readers on items most important to them. Don't make it look buried. Don't make it look like you're trying to hide something.
For example, see the 2023 ThermoFisher proxy (starting on page 10):